A BRIDE'S GUIDE TO AN AMAZING WEDDING:
GETTING READY ON YOUR WEDDING DAY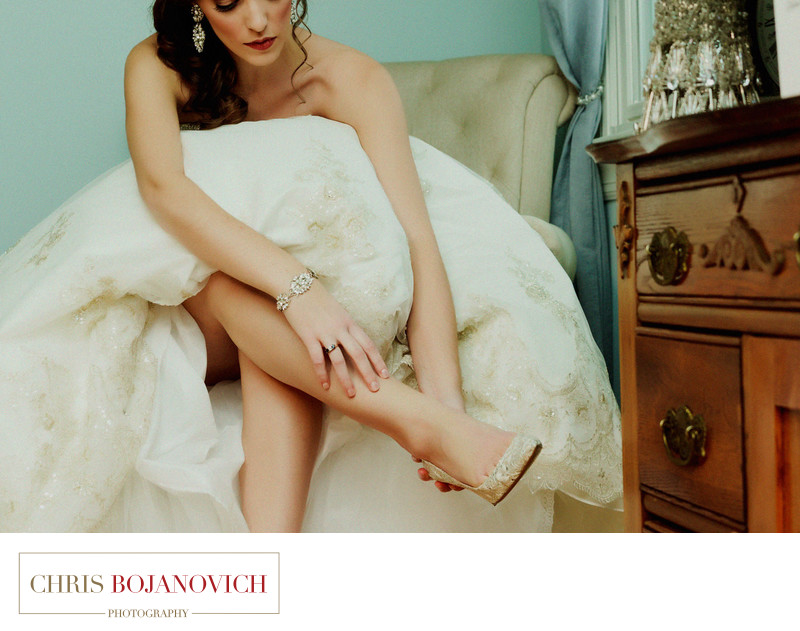 Let the day begin! This portion of the day sets the stage for the entire wedding day. I can't wait to start the day creating beautiful getting ready portraits of you, your family and bridal party as you prepare for your wedding day. To ensure all bridal preparation details are photographed, we'll need a minimum of 60 minutes for the getting ready.
It's the morning of your wedding! Hopefully all the little details are taken care of and you are relaxing with your closest family members and your bridesmaids while your hair and makeup is being done. If certain items haven't been checked off of the to-do list, now is the time to delegate and hand them over to some your trust. Delegation is a big part of an stress-free wedding day. I can image that handing over all of the last minute details can be hard, but it is really important to relax and enjoy the morning.
The rest of the day is going to be fast paced and filled with a lot of emotions! Take advantage of the down time! There are a few things to consider about the "getting ready" portion of the day. Would you want to do a "first look" with your dad or another person that plays a key role in your life? Will you and your groom be exchanging gifts during this time? If so, who would you like to deliver them? Are there certain women in your life who would appreciate seeing you and helping you get in your gown or put on your wedding shoes? Some brides prefer to have an intimate moment with very close family members or friends. Other brides prefer to include their grandmas, ants, cousins during this time. There is no right or wrong answer. It is totally up you you!
Quick tip: As you get ready to put on your dress on, refrain from putting any jewelry on. I love shooting all those details once you are in your wedding gown. If you is on a plastic hanger, try to make a note or ask someone in your bridal party to bring a wooden hanger. Wooden hangers look much better in pictures!
RINGS, SHOES, JEWELS
The getting ready part of the day starts with capturing the details! I photograph the bride and groom details in a way that matches and showcases the style of photography of the entire wedding day. These photographs will a great compliment to your wedding story in your wedding Storybook.
WHAT TO BRING:
Dress with a wooden or custom hanger
Veil & pieces
Bouquet & boutonniere
Jewelry (engagement ring, earrings, bracelets and wedding bands)
Invitations
Any other details you'll be wearing
HINTS, TIPS & DAY-OF REMINDERS
Save your photographer some time and energy by having all your details together in one place. As with keeping the suite clean, you can designate one of your bridesmaids to help you take the dress out of its bag and have it ready on a hanger, the shoes -unboxed- next to the dress, and all the stationary, rings and other jewelry together before the photographer arrives.
During the getting ready and before the bride puts her dress on she needs to wear something nice and comfortable. Having cute matching outfits for the bride and bridesmaids can make the getting ready photos more interesting. Cute matching robes are a great option.
Although photographing the groom and groomsmen is not as involved as photographing the bride, they still need some love. I always ask for the groomsmen to be fully dressed, and the groom to be dressed in his pants and his shirt buttoned halfway before I arrive. This will allow me to photograph the groom buttoning his shirt, putting cufflinks on and tying his tie and take a few groom and groomsmen portraits after that. Make sure to ask the guys to empty their pockets. Cell phones, keys, wallets make for bulging pockets that are not flattering.
One of the first things we do when we arrive is find a nice location to hang the dress. Unfortunately, some dressed come wrapped in cumbersome packaging and an unattractive plastic hanger. Please consider taking the dress out of its package before we arrive and bring a wooden hanger with you.
Clean up all the clutter and make sure to throw away the trash, hang extra clothes in the closet, and hide suitcases, bags, purses and anything that is not used as a wedding accessory under the bed or to one side of the room where it not seen. Often times we arrive at the bridal suite ready to shoot but end up spending lots of valuable time cleaning up the clutter before we can begin. Designate one of your bridesmaids to help you keep things organized. Doing so will ensure we have more time to work in getting amazing photos of you and the bridal party.
The most common detail missing when we arrive to the bridal suite are the rings! Everyone will tell you to hand over the rings to the best man before the wedding day begins. However, it actually better keep the rings with you in the bridal suite so that we can shoot some great ring shoots during the getting ready part of the day. If you forget, no worries, I can always shoot the rings at a later time, if there is extra time!
Don't forget the bouquet! Have the bouquets and boutonnieres delivered to the bridal suite before the first look so we can have her bouquet in her portraits.
Be sure to think about travel time and account for possible traffic to and from the getting ready location to the ceremony.
I encourage brides to have at least their make up done before we arrive. You probably don't want many photos of you without any makeup on!
My second shooter (if applicable) will photograph the guys getting ready. As with the bride it would be great to have all his details (shoes, watch, etc) in one place before we arrive.
Once you are done with hair & makeup and we have photographed all the details, I'll instruct you to get into your wedding dress. I usually ask brides to get dressed close to a window and have all the bridal party dressed when you are getting in your gown.
This is crucial and can make a great impact on the outcome of your photos. You'll spend a significant amount of time getting pampered in this room. Therefore, you getting ready room should be a special place with plenty space with big windows were everyone accompanying you can feel relaxed and comfortable and your hair & makeup artists can work their magic in beautiful natural light.

One of the most important elements for a photographer to create great photos is light and a room that offers this will ensure the photographer creates amazing photographs of you and your bridal party getting ready. Keep this in mind when you visit potential venues, some of them will offer you beautiful bridal suites, but others might relegate you to not so pretty rooms.
| | | |
| --- | --- | --- |
| --- | GET ALL NECESSARY PERMISSIONS AHEAD OF TIME | --- |
If you are getting ready or having the first look at a hotel and hope to have your photographs in the hotel grounds or lobby, make sure you gather all permissions necessary from the hotel long before your wedding day. Some hotels have strict rules as to where you are allowed to take photographs.